Remove Your Anxiety Disorders Once and For All

For all ages. Online, Workshops, one-to-one and residential recovery

"This is the last place you'll ever have to look for real relief"

Use the Method used by over 420,000 people to recover fast - Simple recovery from all Anxiety conditions + constant access to support and our online

Anxiety Relief Club

community webinar

s

FOR GAD - OCD - PANIC ATTACKS - PURE O - AGORAPHOBIA - EATING DISORDERS - EMETOPHOBIA - HEALTH ANXIETY & ALL OTHER DISORDERS
We are currently supporting...
Over 19,000 Adults

Over 7,000 Teenagers

Over 11,000 Children

1000s of medical professionals

100s of Emergency service workers
The power to overcome anxiety disorders is within you waiting to activate
Becoming completely anxiety disorder free doesn't lie in relaxation, counselling, psychology, hypnosis, tapping or breathing, it lies in the simple science of psychoeducational recovery. The body and mind have ONE process that controls fear and anxiety - understand it and use it and within hours, anxiety, phobias, obsessions, compulsions and all associated symptoms reduce and fade away.
For 22 years I was just like you...
Having personally suffered from anxiety, panic attacks, OCD, eating disorder, agoraphobia, emetophobia, health anxiety and low mood; having been addicted to prescription medications, misprescribed a myriad of inappropriate, harmful and addictive medications and having fully recovered, I am in a unique position to lead you to full and final recovery.
It was a hellish rollercoaster of false hope, promises, fake treatments and misinformation that wasted decades of my life for no other reasons than ignorance and/or greed.
I would do ANYTHING to ensure that no one of any age has to endure the mental and physical suffering I endured for over 22 years.
For 26 years I have worked 7 days a week against the resistance of clinical and psychological care to bring hundreds of thousands of people and almost without exception, TRUE, science-based recovery.
Myself and my team of psychoeducators, psychologists and researchers have created a solution that cannot fail to produce full recovery in every case. It doesn't matter what your symptoms are, how long you have suffered, whether you are taking medication, or not, what we show you will immediately lower your anxiety levels and quickly make the necessary adjustments to bring full and lifelong relief.
AND... the good news is, I will personally guide you in my live recovery sessions.
With the benefit of the knowledge and data drawn from 22 years as a sufferer and over 26 years helping over 420,000 people from around the world to recover, I strongly believe that, experiences of the last three years have resulted in a 40-50% increase in anxiety disorders and that the average age of the activation of suffering has also significantly dropped.
"We're so excited about showing you how quickly you can remove anxiety and return to calm normality."
Over the last 26 years, TLM and Linden Tree Education have helped millions of people (over 420,000 with TLM alone), just like you, to understand and overcome their anxiety conditions, quickly and for good! Our team is made up of the world's most experienced recovery educators who will give you exact, simple instructions on how to switch off your disorders quickly and with permanent results.
Beth Linden - Managing Director. LTE
Instant access to all recovery resources and support.
*SUPPORT - Support is provided on an unlimited basis by qualified psychology professionals via email & telephone.
JOIN BY PHONE UK +44(0)1562 702720 Rest of World 0044 1562 702720
TODAY'S OFFER

- A FURTHER

10% OFF

USING COUPON CODE 10TLM AT CHECKOUT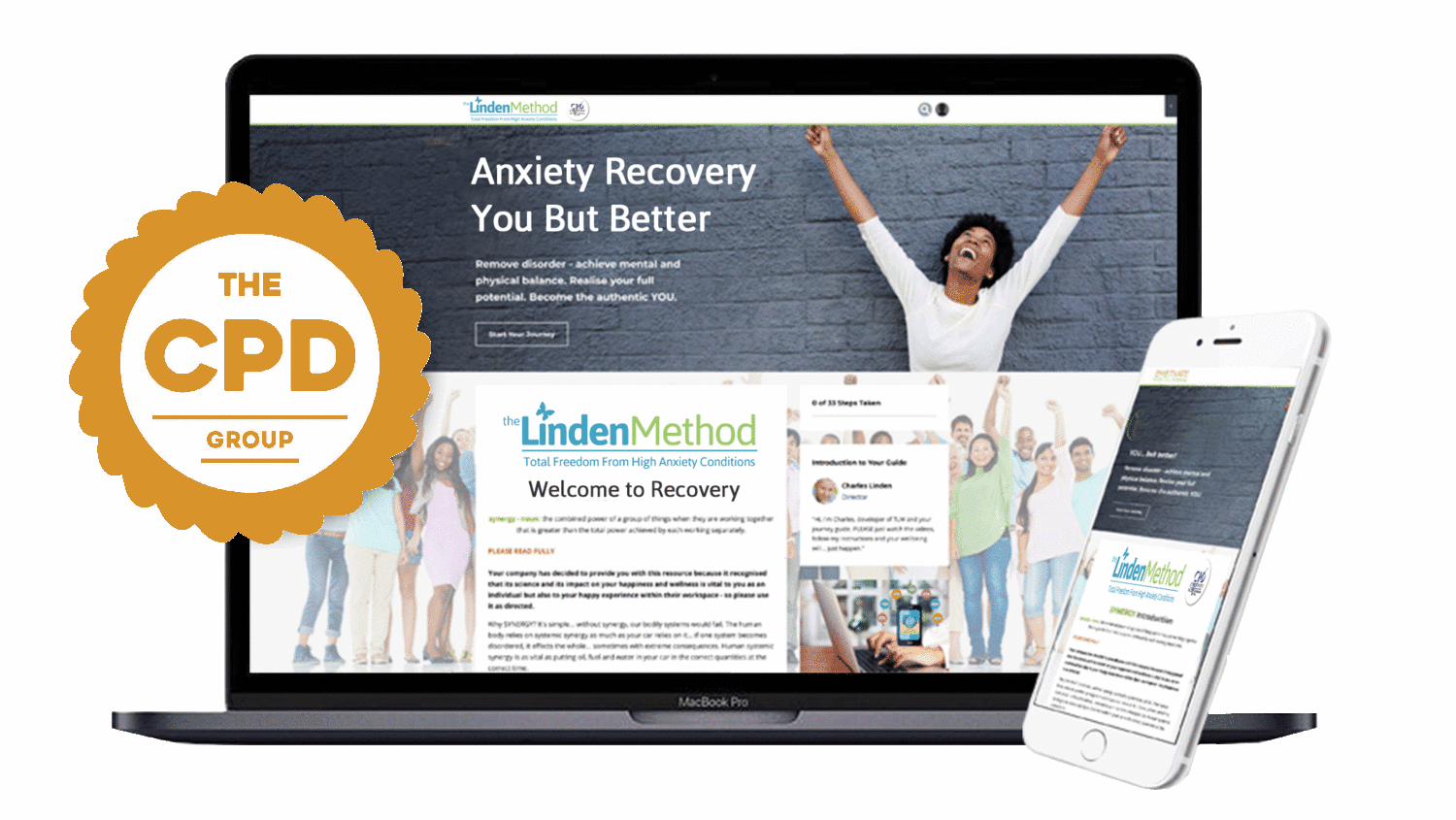 INSTANT LIFETIME ACCESS
One Payment
Lifetime Access to The Linden Method. Includes 12 months telephone and email support. Add Printed manual at checkout.
10% OFF at checkout
Access Now
TLM INSTANT LIFETIME ACCESS
The Linden Method with lifetime access, plus 1 x 90 minute live, interactive recovery coaching sessions with Charles Linden per week for 3 months.
Or pay in instalments below
3 x £67/$90/€88
Access Now
LIFETIME ACCESS TO TLM
Instant access to all program materials for parent and child.
The Linden Method with lifetime access, plus 1 x 90 minute live, interactive recovery coaching sessions with Charles Linden per week for 3 months.
20% OFF at checkout
Access Now
---
Payments processed securely by STRIPE
This website is owned and operated by Linden Tree Education
UKRLP Register of learning providers. Reg: 10048424
Your Privacy
"I would never have made it through the last year without this!"
"Lockdown was made 100 times easier by Charles' advice."
"Charles makes it all so simple and doable.
Anyone with anxiety must do this."
Don't think about it, just join as fast as you can."
"I am going to tell everyone I know about this because it's the best thing I have ever done."
"Charles is so funny, he makes the whole thing brilliant."
"This was truly life-changing. I have never heard such simple, common sense and inspiring information."
"I know that my recovery is just around the corner. Charles makes psychology look stupid!"
"Charles, you should be knighted. This is the best thing I have ever been to."
"If I hadn't had you every week, I don't know how I would have got through lockdown. At 72, I really thought these would be my last days. With you Charles, I have realised that I have much, much more time to enjoy life."
"27 years on medication and in therapy; I came to my first session with Charles and it destroyed everything I had previously heard. It makes so much sense and I haven't had a panic attack since session one."
"Charles, what you have done for me is nothing short of miraculous. Thank you."
I've spent years having therapy from psychologists and psychiatrists but it never made sense. I went because it offered me a little reassurance. But Charles' sessions made me immediately realise that all of that was complete nonsense. Thank you for releasing me Charles."
I'm a psychiatrist working in clinical practice since 1986 across private and nationalised healthcare. After I developed panic disorder in my teens my life went through constantly fluctuating levels of anxiety and panic. I joined Charles' webinars at the start of lockdown and am now totally free of any manifestations of my previous disorder. Your creation is amazing Charles, well done."